A bathroom can provide a healthy, moisture-rich habitat for plants. Plus, you can use the luscious, green foliage as relaxing and peaceful decor.
However, finding extra counter space or windowsills for your plants can often present a challenge.
That's why I like floating bathroom shelves. They can instantly create extra storage areas without taking up valuable floor space.
Why are Floating Shelves a Good Solution in Bathrooms?
Floating wall shelves solve many problems. For example, they supply extra surfaces to display plants and other items. Plus, they won't clutter up a small space.
Why White Shelves are Key:

In fact, using a white floating shelf against a white wall can make it appear nearly invisible.
The gloss paint on sturdy wooden shelves makes the surface water resistant, and therefore ideal for moisture-rich spaces like bathrooms. Not to mention, it helps them match with a glossy-painted wall.
Note: This color-matching designer strategy helps to make small rooms look larger because it doesn't segment large walls into small sections. (Especially important in half bathrooms!)
Each wood (MDF) shelf can support up to 20 lbs. Therefore, you can display multiple smaller containers at once. (Plus, you can intermingle the green foliage with stacked folded towels or other home decor pieces.)
As you can see in the photos, if you use matching white planters, you can add lots of greenery without adding clutter.
Where to Put Floating Bathroom Shelves: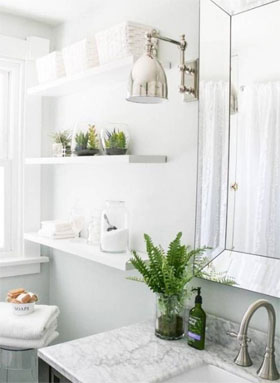 1. Take Advantage of Un-Used Wall Space
Position them above a bathtub or toilet to take advantage of otherwise un-used space. This decorating technique gives you an efficient way to decorate and add extra storage space at the same time.
2. Double Their Length by Putting Them Next to a Mirror
Alternatively, you can place the free floating bathroom shelves beside a mirror and reflect the shelves and their contents. Therefore, you can create the appearance that you have twice as many plants.
On the other hand, you can position floating bathroom shelves directly under a bathroom mirror. A bracketless shelf removes clutter off of a small vanity countertop while keeping frequently-used toiletries within easy reach. In addition it creates a decorative neighborhood for plants.
How to Display Plants on a Floating Shelf:
1. Create a Clean, Uncluttered Look
To avoid clutter, place plants in vases and pots that match the color of the wall behind them. This also helps bring attention the the shape and texture of the plants themselves and make them look more artistic.
2. Create a Focal Point Using Decorator Tips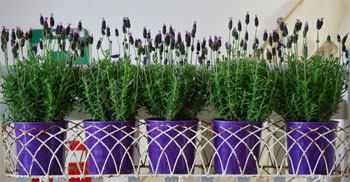 To create a focal point in the room, add more color and variety in shape and size. However, focus on keeping one thing constant. For example, (1) keep the size of the flower pots the same or (2) keep the plant type the same in all planters or (3) keep the color of the planters the same.
With floating wall shelves, you don't have to have decorating skills to make your bathroom look professionally designed. Shelves are easy to install, and you can simply look online for decorating ideas, like the images above.
In fact, you may be able to find similar modern-style shelving at home improvement stores like Home Depot or Lowes. Or even Ikea. Just keep in mind that "free-floating" bathroom shelves without brackets provide a cleaner more sophisticated look. Plus, they cost about the same.
By the way, these floating shelves are super simple to install. Watch the video below for a quick DIY tutorial on how to make the installation process easy.
Specs for Floating Bathroom Shelves:
Dimensions: 36″ Wide x 8″ Deep x 2″ T (also comes in 24″, 48″ and 60″ widths)
Material: MDF (doesn't expand in humid environments)
Max Load Weight per Shelf: 20 lbs
Shelf Weight: 6.5 lbs
Color Options: White, Black or Espresso Brown, High-Gloss Paint Finish
Model # Welland FBA_WSV118-360